Every Business need to find creative ways to develop values

ProDiscover – for Forensic Investigation
ProDiscover empower systems administrators, forensic consultants, and investigators in collecting evidence from computers. Investigators connect the evidence disk and obtain entire data on the disk along with the trail of creation, modification and deletion of files. It discover all files, emails and other data, even in hidden and deleted sections of the disk and create hash signatures of all the files, Reconstruct deleted files using data carving. It generates automatic reports and evidentiary quality information that would hold good in a court of law.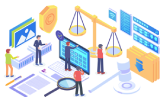 Lexel – Litigation Management
Lexel is an integrated real-time transcription and annotations for cases across the globe and supports multiple global as well as Indian languages. Lexel users, whether they are in the hearing room or remote, can view the real-time transcript within their workspace as the testimony is given. The annotations can be kept private to the user or they can be instantly published to all connected team members. All work is maintained when the real-time transcript is replaced with the final version from the court reporter.
Annomap
A Real-time collaborative review platform that offers an optimal solution for projects with huge set of documents. It helps users with shared workspace, with group and role permissions, that is easy to use even with hundreds of thousands of documents. Mark-up tools, such as tagged annotations, cross-references, hyperlinks to external sources and callouts, In-context messaging and customizable workflows Collaborative platform with easy sharing of documents with the team. Full text search with a range of options Comprehensive reporting features.

Fairs & Expos
A Trade show organizer Portal and Mobile Application for B2B Fairs and Expos. It has built-in CRM to manage Exhibitors, Campaigning and Promotions. Event Management and Stall Booking to ease the organizer efforts. Visitor Management for issuing live passes, customer feedback and database management.

CRM
Application on cloud for consumer with the business process optimization, helping companies connect with their customers, partners and employees. Integrated with Sales force, Service Helpdesk and Billing.

Shopping Cart
Online shopping portal that allows visitors to select items for eventual purchase with powerful ecommerce options to create your own online store.

B2B Web Portal
B2B Web Portal will carry Companies / Professional Services Information, Online Service Enquiry and Booking to the enduser.

e-Billing
e-Billing application on cloud environment which allows customers to Configure Products and preparation of Delivery Challan and Invoice.